Ombudsman's Office holds First Annual Conference:"Government and Stakeholders – Finding Solutions Together"
NEW YORK, March 30, 2023 (Newswire.com) - Mimecast: Cybercriminals choose their targets based on vulnerability and the ability to implement their attack of ch...
Epomaker has kicked off the shopping carnival in the spring. Tons of attractive deals are presented for tech-savvy consumers along with many mysterious surprises. ...
Small Businesses and Thousands of Jobs at Stake as New Legislation Being Pushed Could Devastate the State's Thriving Hemp Industry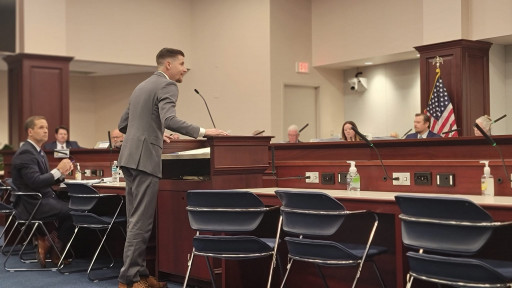 Defending Florida's Hemp: Veteran Patrick O'Brien Takes a Stand
Patrick O'Brien, a determined American veteran and hemp advocate, stands tall before the Florida House of Representatives, passionately defending the rights of small businesses and the livelihoods of thousands in the state's hemp industry.
TALLAHASSEE, Fla., March 30, 2023 (Newswire.com) - Patrick O'Brien, an American veteran, founder of Learn Sativa University and SaveFLHemp.org — an organization committed to protecting Florida's thriving hemp industry and the small businesses that depend on it — recently spoke before the Florida House of Representatives, advocating for small businesses and the people of Florida. His plea, however, went unanswered as the House pushed forward with House Bill 1475, potentially endangering the entire hemp industry in the state.
O'Brien, along with other business owners and cancer survivors, was allotted a mere 30-second window to passionately argue against the bill's devastating consequences on small businesses, individuals, and the economy. In a room filled with over 70 opponents of the bill, including stage 4 cancer patients, doctors, and lawyers who attested to the benefits of hemp products and how the bill would adversely affect Florida's industry, the representatives seemed to disregard the pleas of their constituents.
The hemp industry has contributed significantly to Florida's economy, providing jobs for over 100,000 people and generating substantial tax revenue. Despite the overwhelming evidence against the bill, hemp businesses were told to "stay in their lane" as HB 1475 continues to push forward.
The bill, disguised as a measure to protect children, would primarily benefit Florida MMTCs at the expense of the hemp industry. The representatives, many of whom demonstrated little knowledge of the plant, its uses, or the science behind it, chose profit over people, voting in favor of the bill while claiming to hear the concerns of the crowd. The proposed legislation is constitutionally unethical and goes against federal guidelines. Moreover, the "guidelines" set by this bill are already in effect in Florida, and the addition of outrageous THC caps and the redefining of hemp in Florida law would only serve to destroy small businesses.
All eyes are now on the next committees, the Agriculture & Natural Resources Appropriations Subcommittee and the Infrastructure Strategies Committee, which have the power to stand with small businesses and prevent large corporations from monopolizing the hemp industry in Florida, a state that prides itself on freedom and opportunity.
O'Brien has also initiated a petition opposing the bills, which can be signed online at saveflhemp.org. With thousands of signatures already collected, the goal is to gather even more support to protect Florida's hemp industry.
O'Brien will continue his fight for the industry when he returns to Tallahassee for SB 1676, which will be presented before the Fiscal Committee. The bill is almost identical to HB 1475 and could devastate the state's hemp industry. His determination and commitment to the cause serve as a powerful reminder that the people of Florida will not back down without a fight.
About SaveFLHemp.org
SaveFLHemp.org is a dedicated organization committed to protecting Florida's thriving hemp industry and the small businesses that depend on it. With a focus on providing accurate information, resources, and advocacy, SaveFLHemp.org works tirelessly to ensure that the voices of entrepreneurs, industry workers, and consumers are heard by policymakers and legislators. Through grassroots efforts, educational campaigns, and strategic partnerships, SaveFLHemp.org seeks to create a sustainable future for Florida's hemp industry, safeguarding the economic and social well-being of the countless individuals who rely on it.
Contact Information:
Allyson Perez
Director of Operations
[email protected]
720-295-1439
Original Source:
Florida's Hemp Industry Under Fire: How Two Bills Threaten Small Businesses and Jobs
Source: Courtesy of Plus M(l-r) Hwang Jung-min, Zo...